Wikitrail.org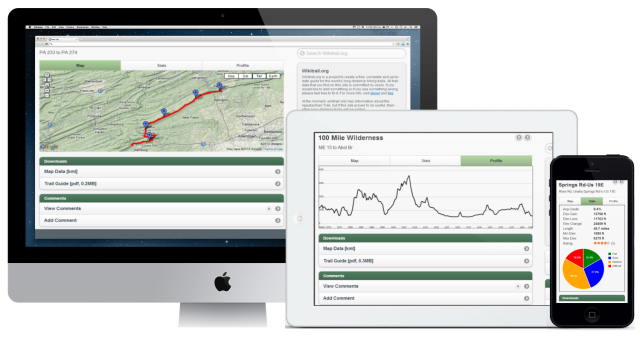 Trail data at your fingertips (for free)
Planner

It can be tedious to try to figure-out how long your hike will take and when you'll be where. You really can't predict exactly how your hike will go. Things come up. Weather changes. You might want to speed-up or slow-down to match the schedule of another hiker. You can try, though. Using the planner, you can get a rough estimate of your itinerary.

Give it a shot.
See the Trail in 3D

If you've got Google Earth installed on your computer or smartphone, then all you need to do is download the map data (KML) and open it up in Google Earth.

Try it out using data from the final section of the Appalachian Trail.
Trail Data Belongs to You

You've contributed to wikitrail.org, so why would we hog your work. All site content is licensed under Creative Commons Attribution-ShareAlike. So, you're free to take the data and do as you wish - as long as you link back to wikitrail.org.

Details: Creative Commons Attribution-ShareAlike 3.0 Unported License
Get Started
Feedback
Wikitrail.org

Wikitrail.org is a project to create a free, complete and up-to-date guide for the world's long-distance hiking trails. All trail data that you find on this site is submitted by users. If you would like to add something or if you see something wrong, please feel free to fix it. For more info, visit about and faq.

At the moment, wikitrail only has information about the Appalachian Trail, but if this site proves to be useful, then other long-distance trails will be added.

Wikitrail.org is a brand new website and has a lot of growing to do. If you find that something is broken, please be patient. We'll will be fixing issues as they arise. If you have anything to say, please feel free to share it on our feedback page. Thanks!